ElGizrah, the greenest and prettiest part of Cairo
This picture contains many landmarks of cairo. At the bottom left is the Qasr El-Nil (The Nile Palace) Bridge built by Khediwy Ismail with the guarding lions at the entrance. Go further up the picture, you see the tower of the Maglies Qiadet El-Thawra Bldg (Council of the Revolution). The other bridge is El-gam'aa (university) bridge which connects Roda Island (home of faculty of medicine/Cairo University) and Giza where the main Cairo University campus is. The next thing you hit after the bridge in Giza is the lovely zoo garden. The big struture in the fron of the picture is El-Gezirah Sheraton Hotel. The statue is that of Sa'd Zaghloul a patriot egyptian leader of Al-Wafd party who strifed against british occupation and the monarchy. The entrance at the right of the picture is that of the modern Egyptian Opera House and art Galleries.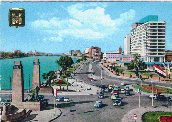 Cairo Hilton and Qasr El-Nil Bridge
"Cairo changes but Hilton remains the same". This is a photo of Cairo in the mid 60's. No way to see such light traffic in this area any time of the day (or night if you wish) these days. Hilton remains as elegant today as it was then though it lost some of the business to Semiramis a few 100 meters away and Marriott at the Gezirah on the other side. The two black lions still guard the bridge as they used to do :) Note the egyptian flag of the United Arab Republic (Egypt, Syria and Libya).

Beach in Alexandria
The best of all: Alexandria, the Medit. Mermaid. This is Stanley beach. It used to be the most exclusive beach of Egypt in the 40's-50's. It still has the best air and charms in Alexandria and a sunset walk by the Alexandria corniche from Stanley to Gelim is still one of the most pleasant actvites one can do there.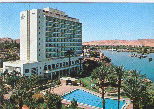 New Katarakt Hotel in Aswan
Who can ask for more? The view from the terrace of the Katrakt (specially the old Katarakt) is breath taking. Add to that the charming weather (in Winter), the serenity, the magnificient Nile in Aswan, and the warmness of the egyptian people.
Fluka by the Nile
A fluka trip in Aswan or from Aswan down the Nile to Luxor is one of the most charming experiences in life.
Bank of the River Nile at Luxor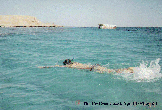 Sonrkeling at Sharm El-Sheikh
Crystal clear water of the Red Sea and the Gulf of Aqaba are pefect for snorkeling and diving
---
This page is created by Khaled Elsayed.