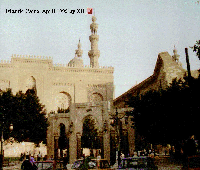 The Mosque of Sayyidah Nafisah (most probably)
Al-Sayyedah Nafisah was the great-granddaughter of Hasan, son of Ali, the cousin of Prophet Mohammad (PBUH) and the fourth Khalif. She was born in Mecca, raised in Madina, and moved to Cario in 809. She dwelt in a house on the site of the current mosque. There has been a series of mosques built on this site since her death. The current buliding was built in the time of Khediwy Abbas II in 1893-97. The mosque is currenlty very popular for holding weddings.
Wall of Salah Al-Dien Citadel
The Citadel lies on the only piece of high ground between the River Nile and the Mouqattam Hills. Salah Al-Dien gained supreme control of Egypt as a sultan in 1171. He started the citadel project for fortification of Al-Qahirah (Cairo) and Al-Fustat (Old Cairo). The fortifications were completed around 1182 when Salah Al-Dien left Egypt never to return. He defeated the crusaders and Jerusalem fell to him in 1187. The Citadel as constructed by Salah Al-dien consisted of two great enclosures: the military area and the residential area. Witihin the walls of the Citadel many interesting monuments exist. The Mosquee of Mohamed Ali, Dar Al-Mafuzat, Qasr El-Haram (part of which is currently the Military Museum), the Mosque of Sulayman Pasha, the Mosque of Al-Sultan Al-Nasir Mouhammad, Bir Yusuf (Joseph's Well) also called the Spiral Well, and Qasr Al-Gawharah (the Palace of the Jewel) among others.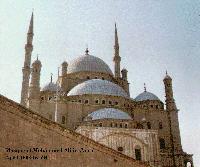 The Mosque of Mohammad Ali and the Citadel Wall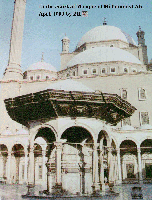 Interior court of the Mosque of Mohamed Ali
The Mosque of Mohammad Ali was built between the years 1830-48, although not completed until 1857 in the time of Said Pasha. Its architecture is that of an Ottoman fortcourt and is modeled after the Yeni Mosque in Istanbul.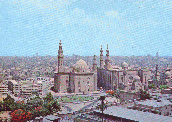 El-Sultan Hassan mosque and madrassah (right) and El-Rifa'y Mosque (left)
Though they look like twins, they are separated by over than 400 years. The Sultan Hassan is a miraclous work by all means and is no less than the pyramids as an architecture masterpiece. El-Rifa'y has the graves of memebers of the last Egyptian monarchy and the last Shah of Iran. The street between the two mosques is the "famous" Mohamed Ali (or Qal'a street) which leads from the most crowded 'attaba square to the Citadel of Salah El-Dien.

The mosque of Ibn Tulun with the characterisitic spiral minaret.
---
This page is created by Khaled Elsayed. ~