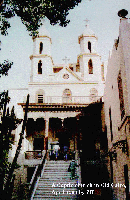 The Church of the Virgin (Suspended Church) most probably
The Church of the Virgin called al-mullaqah (the suspended) as it rests on top of the two bastions of the Roman Gate in old Cairo. The buliding was probably founded in the late 7C. Much restoration was done in the late 19C. The church is located in Old Cairo (Misr Al-Kadiemah), the earliest part of Cairo still inhabited. The surrounding area contains the Coptic Museum, Convent of St. George (Mari Girgis), the Roman Towers, the Synagogue, and the Babylon fortress. Not very far is the first mosque in the whole african continent: The mosque of Amr Ibn Al-aas. Nothing remains of the original structure of the building.

The Monastery of St. Catherine, Sinai
Worthy of metntion here is that the library of the Monastery of St. Catherin contains a magnificient collection of manuscripts: about 2000 Greek, 700 Arabic, 300 Syriac, 100 Georgian and Armenian, 40 slovanic and 1 Latin.
---
This page is created by Khaled Elsayed.